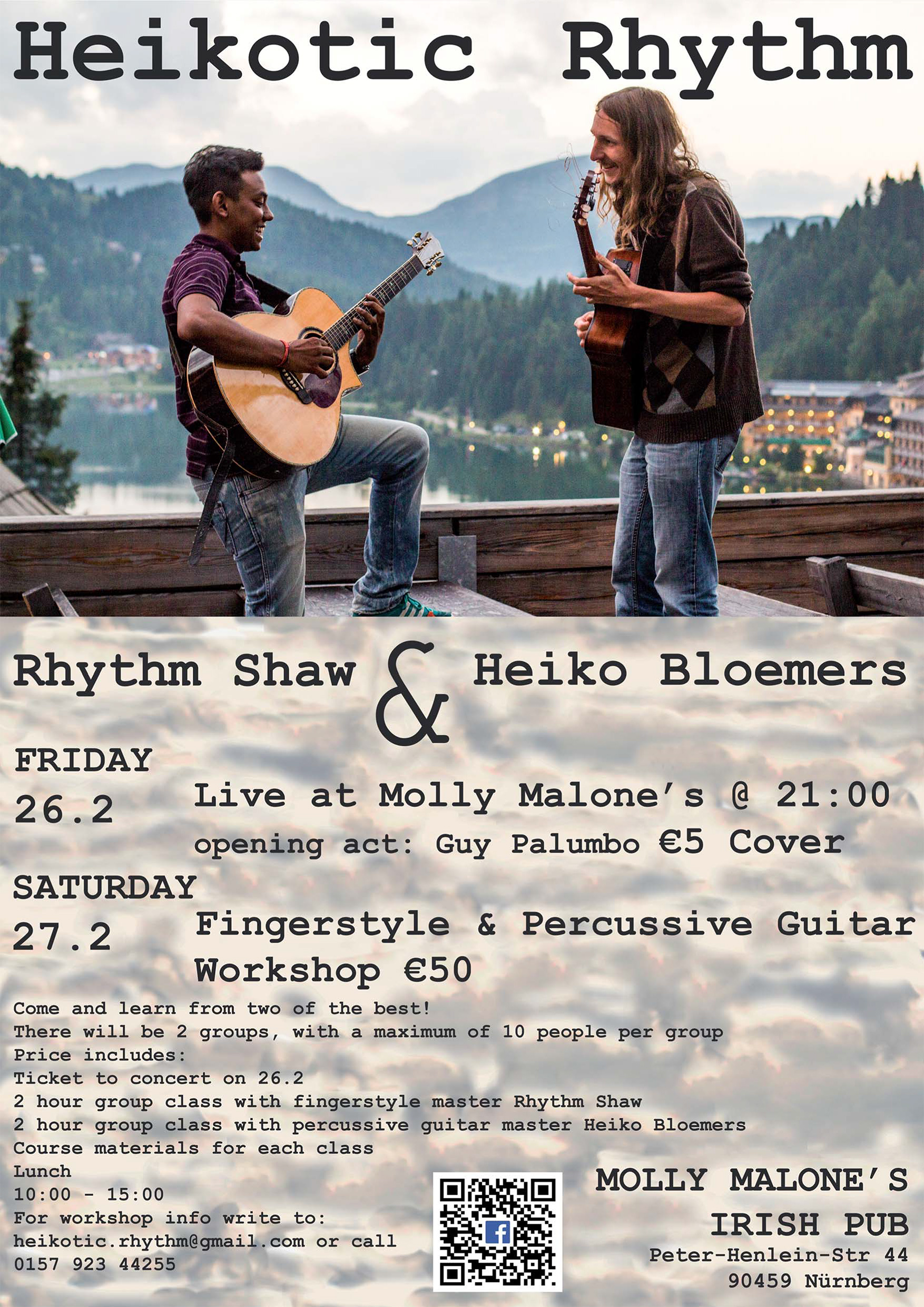 Opening for Heikotic Rhythm at Molly Malone's in Nürnberg!!!

| | |
| --- | --- |
| | February 26, 2016 |
| | 8:30 pm |
| | Nürnberg |
| | Molly Malone's Irish Pub |
| | Google Map |
I am really happy to announce that I will be opening for the unbelievable Heikotic Rhythm at Molly Malone's Irish Pub on Friday, 26 February! This is going to be a very different set of songs for me, so I am really happy to have the opportunity to be a part of this show.

To give you some background,
Heikotic Rhythm is a next-level, boundary-pushing acoustic guitar duo. Heiko Bloemers and Rhythm Shaw first met at the Thomas Leeb Guitar Bootcamp in 2015. They made and instant connection as friends and collaborators and decided that they needed to nurture this amazing musical relationship.
Heiko Bloemers is an ace percussive guitar composer from Rheinberg. He has impressed the likes of
Jon Gomm
and is constantly in demand to perform and to teach.
Rhythm Shaw, at 19 years old, is already an accomplished fingerstyle composer and performer, who was brought over in 2015 by none other than Peter Finger to record his first album and join the Acoustic Guitar Night tour.
They will perform individual sets as well as a set together to give you an acoustic experience that you have never had before.
On Saturday, 27 February they will be giving a workshop to two groups of 10 people at Molly Malone's Irish Pub in Nürnberg. The fee will be €50 and will include the following:
Ticket to the concert on 26 February
2 hour percussive guitar lesson with Heiko Bloemers
2 hour fingerstyle lesson with Rhythm Shaw
Lunch
Course Materials
If you are interested, feel free to contact me via the website or check out the event on facebook here
:
We hope to see you there!